Dear Fruitfest supporter,
Thank you kindly for being part of our event in the past. We are getting ready to begin promoting our event for next year and hope to have around 120 attendees, which is around about the capacity for the venue we have chosen.
We will be back at Dunfield House, Kington Herefordshire. This venue has some benefits over our previous venue, particularly the fact that it offers more privacy.
The rooms also offer more space, and there is more indoor space for socialising. We also have access to a heated swimming pool.
We hope you can join us for next years event. Here are some basic details:
Dates: Friday 22nd to Friday 29th July 2022
Location: Dunfield House, Kington Herefordshire (http://www.dunfieldhouse.org,uk)
Accommodation: Limited private rooms, small rooms (1-3 beds) and dorm rooms (4-10 beds) are available. Rooms are simple and most rooms do not come with an en suite toilet or shower (shower and toilet facilities are throughout both buildings) but most come with hand basins. There is space for camping though the venue does not want us to book too many campers and we are limited with dining space. There are no electrical hook ups for camper vans and no separate facilities for campers.
Schedule: Once again we will feature educational lectures from long term raw vegan educators as well as daily food demoes. Mornings will be filled with fitness activities and our evenings will be full of dance, song, campfires and entertainment.
We have received some feedback asking for more time for rest and social time during the event and we are looking to amend the schedule to add this. We also want to create more group activities that are health promoting such as: gratitude circle, meditation, relaxation, group singing, group hiking, labrynth walking and dance.
Prices: We are offering these prices to previous attendees only until the 30th of November 2021. Please contact us prior to then to book. Prices will rise between £350 – £500 when it is open non attendees at the end of November.
Fruitfest Prices 2022 – Full Payment

Monthly payment over 9 months (beginning November):

Cancellation/Refund: After registration, you have 60 days to cancel your booking and receive a full refund minus a £75 admin charge. After 60 days your payment can be allocated to a future festival if you are unable to attend.
Monthly payment plans must be completed by the time of the festival regardless of cancellation. If you wish to protect yourself further against the risk of cancellation due to personal or family illness or redundancy, consider purchasing travel insurance to cover you against these eventualities.
How To Book: Please contact Ronnie at info@fruitfest.co.uk or by phone/whatsapp at 07936875064 to arrange booking.
Forgotten about the festival? Here are some further details……
Are You Ready To Meet Your  Health Conscious, Heart Centred Raw Vegan Tribe?
You Are Invited To The Most Important Event Of Your Lifetime!
UK Fruitfest is no ordinary festival.  In fact, festival is the wrong word…
UK Fruitfest is the annual gathering of a tribe of conscious, loving individuals who are looking for like minded souls to share this journey of life with.
Everyone is brought together by a love of fruit and raw food.  They have realised that fuelling their body with the best, healthiest and most high vibration foods is essential when you want to live your best life.
But that's not all that this vibrant community shares….
The group of people this event has previously attracted tends to share the following charateristics, they are:
health conscious and looking to live a healthy, high energy life for themselves and their family and friends
either practising or curious about a raw vegan/fruitarian style diet or the benefits it offers (most of the attendees are actually beginners to this lifestyle)
highly ethical, looking to make good choices that impact the world in a good way
highly caring of animals, the environment and the planet for now and for future generations
compassionate towards other people and very aware of the feelings and concerns of others
determined to find and follow their passion in life in order to help as many people as possible live better lives
looking to make an impact on the world and wish to help change it for the better
spiritual but not necessarily religious, interested in pursuing spiritual practices like meditation, yoga and breathwork
love to connect with nature and be out in nature away from the modern civilised world
they have a sense that they don't quite fit in with the world and they are constantly looking for people to connect with who are more like them 
Does this sound like you?
On your journey of development in life, have you started to feel a disconnection towards others around you?
Do you struggle to fit in with your friends, family and colleagues?  Do you find it difficult that they don't see things in the same way you do?
You maybe feel confusion that others are not able to see what has become obvious to you when it comes to health, diet and lifestyle choices.  At the same time, as you have started to experiment with your new lifestyle you have started to change more, to expand and wake up not only to your new potential in life but also to how frustrating it can be that the rest of the world is yet to make that change.
This Is Why UK Fruitfest Was Born
UK Fruitfest is here for those people who have awoken to their true nature and hear the calling of this tribe.  For those looking to make changes to their diet and lifestyle it is the perfect place to learn more about the raw vegan diet and lifestyle.
But more than that, it is the place that you will be immersed in a community of like minded and heart centred souls.
A place to find real CONNECTION
A place to EXPRESS your true self
A place to find KNOWLEDGE, EDUCATION and MENTORSHIP to help guide you to a better, healthier life
A place to get in touch with your inner WISDOM
A place to find your PASSION and learn how to share that with the world
A place to find SUPPORT and guidance
Most importantly, a place where you can be YOU and truly dive deep into your higher self and be supported and guided on that journey.
Also, it is a place where you will meet some of the best friends of your life.  Who knows what journeys you will take after this festival or where your life could lead.  Meeting one important person could change the whole trajectory of your life forever.
Featured speakers: Confirmed For 2022
Ronnie Smith- Founder of the UK Fruitfest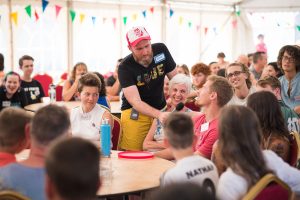 The founder of UK Fruitfest and a legendary leader in the raw vegan movement.  His raw vegan journey has been documented online for the last 7 years, reaching the hearts and minds of over half a million people around the world in that time.
He is well known for making the raw vegan diet simple and clear, removing the magic, mytsicism and nonsense that often accompanies the claims of raw food promoters from the past.
Ronnie's talks will range from the complete basics of making the raw food diet work to inspirational and exciting ideas, stories, philosophies and concepts that will motivate you to go raw!
Dr Douglas Graham – Author of the 80/10/10 Diet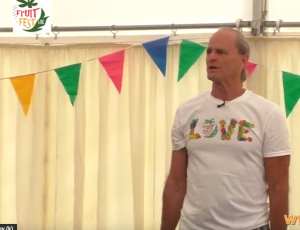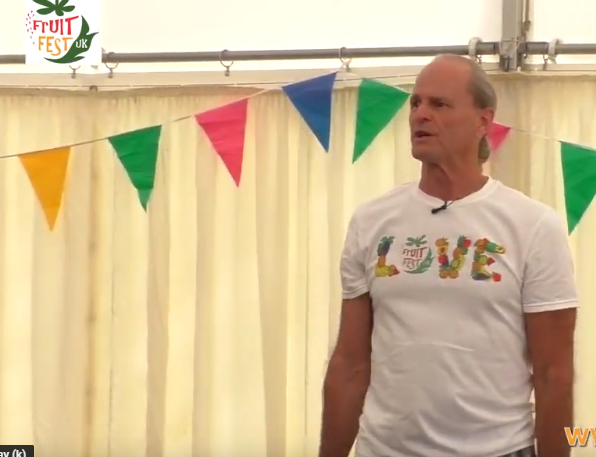 A lifetime athlete and raw fooder since 1978, Dr Graham is an advisor to world-class athletes and trainers from around the globe.
He has worked professionally with top performers from almost every sport and every field of entertainment, including tennis legend Martina Navratilova, NBA pro basketball player Ronnie Grandison, track Olympic sprinter Doug Dickinson, pro women's soccer player Callie Withers, championship bodybuilder Kenneth G. Williams, Chicken Soup for the Soul coauthor Mark Victor Hansen, and actress Demi Moore.
Each morning Dr Graham will be teaching one of his world famous fitness classes. You will see a crowd of people perfoming all sorts of unusual stretches and body weight exercises under the elite supervision of Dr Graham.  He will also be sharing his skills with showing you how to make his famous raw food recipes.
He is well known as one of the most effective speakers in the raw food movement, with over 35 years of experience and over 10,000 presentations to draw upon.
Professor Rozalind Graham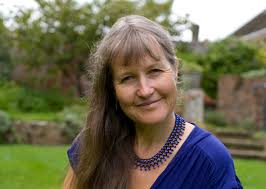 Rosalind Graham has been a raw vegan for nearly three decades. For over 25 years, she has been a leading light in the field of Natural Hygiene and healthful raw vegan living. Rosalind specialises in the nurturing of children and helping people heal from disordered eating.
Rosalind is best known for her work in the field of emotional and psychological well-being. Her work is rooted in the promotion of loving kindness, compassion and peace.
She will help you explore your fears and desires when it comes to your relationship with your body and food. She will address concerns as to why people end up overeating and binge eating. She will help you to address unlocked emotional issues that are preventing you from fully loving yourself and becoming a better version of yourself.
We have not confirmed our full list of speakers yet but an announcement will follow soon.  Other previous speakers include:
"Fully Raw" Krisina Carillo Bucaram
Ted Carr, founder of the Canada Fruitfest
Chris Kendall, 15 year raw vegan and founder of TheRawAdvantage.com
Anne Osborne, Author of "Fruitarianism: The Path To Paradise"
Robby Barbaro, @mindfuldiabetic and founder of Mastering Diabetes
Paul and Yulia Tarbath, from the well known youtube channel RawesomeHealthy
Roger King, counsellor and author of Warrior Love
Connor McMillen and Britanny Taylor
Michael Goodchild, The Vegan Activist
Bob Love from the Family Freedom youtube channel
Grant Campbell, author of "Inspire To Run", raw vegan ultra runner
Harriet Kjaer, 10 year raw vegan and Denmark's top ultra runner
What is Included?
 Your ticket covers:
your accommodation for the whole time
full access to all of the scheduled activities
full access to meet and speak to our featured guest speakers
all of your food for the entire time.
educational videos and downloadable materials and books to help further your knowledge
What To Do Next
This year we have decided to limit this event to around 120 people.  We feel that this is the best size to create a real community feeling that gives the special experience that this festival gives people.  We have a limited amount of places left and expect to sell out very soon. 
Please contact Ronnie by the end of November to secure the opening price for previous attendees.  Prices will rise on average by £350 – £500 when advertising begins at the end of November.
Email info@fruitfest.co.uk or phone/whatsapp 07936 875 064