Join Us For The World's First Conference On A Fruit Based Diet (THIS WEEKEND)- Last Tickets Available NOW!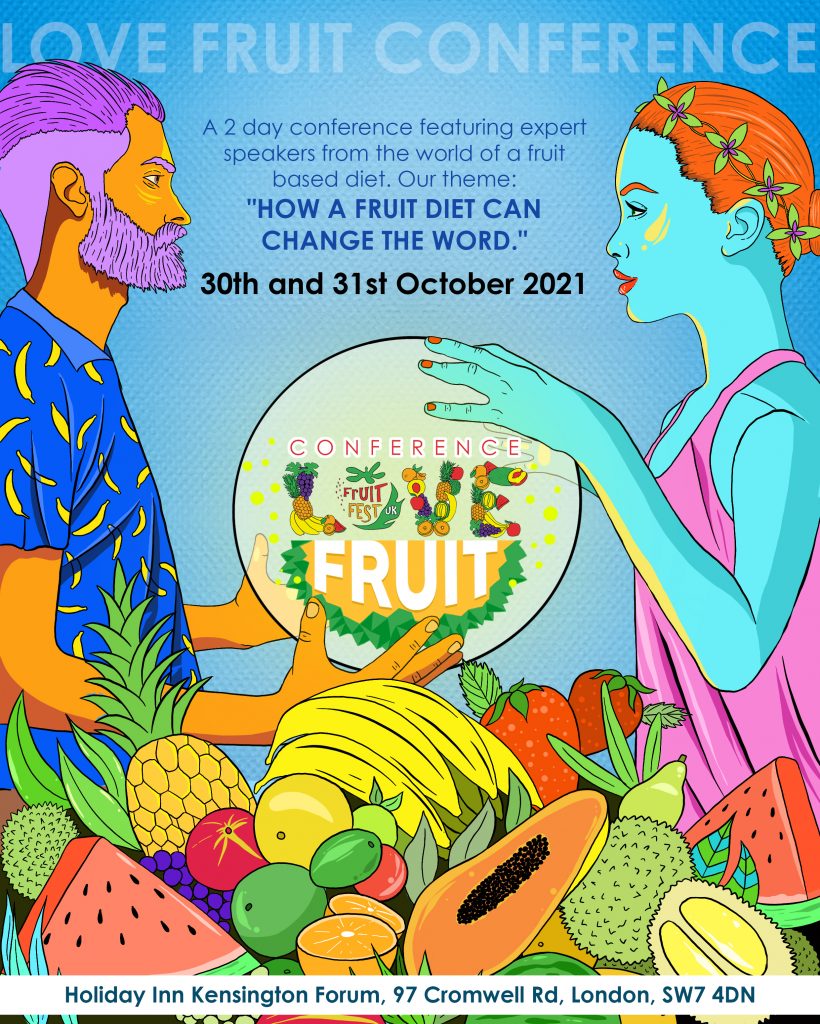 Love Fruit Conference (30th to 31st of October taking place at Holiday Inn, Kensington Forum, London)
Watch This Video To See What Others Have To Say About UK Fruitfest
Attention – Very Limited Spaces Remain For This Years UK Fruitfest – Please Act Soon To Ensure Your Attendance
The world famous UK Fruitfest is back for another year. Over our 8 year history we have had over 850 attendees from dozens of different countries all over the globe including the USA, Australia, India, Trinidad, Germany, France, Switzerland, Luxembourg, Austria, The Netherlands, The Republic of Ireland,
Join our announcement list below to get up to date news about this years event and to gain access to all of our options of attendance and ticket prices.
Some Basic Information:
Dates: Friday 30th July to Friday 6th of August 2021
Location: Dunfield House, Kington, Herefordshire
Food: 100% Raw vegan, fruit, smoothies and juices during breakfast and lunch and a hearty and healthy raw vegan dinner each evening
Prices: We have a range of different options. Please fill out your details below to get access to more specific information on prices and available programmes.
Schedule: Our schedule is not yet confirmed but in general a day at Fruitfest starts with morning activities (yoga, running, meditation, dance exercise) followed by breakfast. The day is then packed with informative lectures and workshops from world class experts in this field. Lunch is in the middle of the day and a raw vegan salad buffet each night. Each night ends with entertainment followed by a campfire.
What is Included?
Your ticket covers:
your accommodation, bed and bedding for the full 8 days (29th July to 6th August 2021)
full access to all of the scheduled activities
full access to meet and speak to our featured guest speakers
all of your food for the entire time.
educational videos and downloadable materials and books to help further your knowledge
This year we have decided to limit this event to around 100 people. We feel that this is the best size to create a real community feeling that gives the special experience that this festival gives people.
With 48 attendees already signed up to come (and 850 other previous attendees showing interest in coming back), we have a limited amount of places left and expect to sell out very soon.
If you want to learn more about UK Fruitfest and find out if this is truly for you please fill in your name and email below and you will be taken to a page with more information and a series of videos that will provide you with more details about the event.
You will also be added to our weekly newsletter providing you with helpful tips and news about the raw vegan diet and lifestyle. Your details are not shared with anyone and you can unsubscribe easily at any time.
Subscribe Below For Access To Further Details And Prices
To receive more information about the event or to book a call to register please firstly fill in your details below and click the SUBSCRIBE button.
Get more information about the festival and receive upcoming news, offers and information relating to the festival by filling in your email below and hitting the "SUBSCRIBE" button. Take action now, fill in your details below and click the button.
AS A FREE GIFT – Get our UK Fruitfest recipe book for FREE, as a gift to you, when you subscribe.