Would you like to put your brand in front of a potential digital audience of 1,000,000+ people?  Would you like to get face to face with some of the biggest, brightest and best influencers in the raw vegan and vegan health movements?
Then this may be one of the most important messages you will read all year.  Here is why:
The UK Fruitfest is offering a limited selection of sponsorship opportunities to companies that qualify and meet our conditions.  We would like your support in covering some of our expenses for the festival and in return your brand will be displayed on our stage and around our festival campus from the 24th to the 30th of July, 2018.
We are looking for companies that are involved in any of the following:
the distribution, sale and supply of fruits and vegetables
fruit farming, fruit tree farming
brands that promote products related to a lifestyle of health and fitness
brands that promote the vegan message
brands that promote raw vegan products
brands that promote a healthier planet and environment
health retreats, spas, hotels that promote a healthier vegan way of life
other fruit festivals
influencers in the raw vegan movement
brands in any other industry which are not directly in opposition to veganism
Products and companies that would not be suitable
companies promoting non-vegan products (including food and clothing)
companies exclusively promoting cooked food products (vegan sausages, burgers etc)
companies promoting products or ideas that are in direct opposition to a healthier, more harmonious view of life for our world
UK Fruitfest
Our festival attracts a select group of some of the most successful and well known influencers in the raw vegan and vegan health movements.  Your brand can be displayed on our stage, and will be seen clearly in every video recorded of the event.  These will be shared online throughout the rest of the year.  Our guests often make their own videos of the event and post these online.  Here are some examples: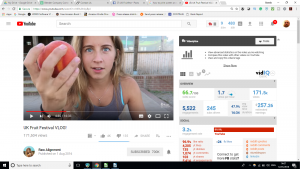 This video from Alyse Brautigam, Raw Alignment, has reached over 170,000 people worldwide.  Your brand will have the potential to reach many hundreds of thousands of people through videos like this created by and shared by our guests.
How can we help you?
Are you looking to reach a large audience of people in the health and well being space? Do you want your brand to be connected with health, fitness and a more vibrant, positive, healthy planet and environment? Would you like to connect with and get time to meet and share ideas with some of the biggest and most influential names in the raw vegan movement?
Our festival has a potential digital reach of over 1.5million people.  Here is a sample of the following that many of our special guests have:
Kristina Carillo-Bucaram (@FullyRawKristina)
The biggest and best known influencer in the raw vegan movement worldwide.  One of the best influencers online promoting a message of health, veganism and positivity.  Kristina's audience is over 1million on both Instagram and Youtube.
Dr Doug Graham (The 80/10/10 Diet/FoodNSport)
For many people Doug is the "father of the raw movement" and provides a scientific approach that has brought credibility to a movement that has suffered at times from people promoting misinformation.  Dr Graham is a high level coach taking on high performance clients.  He has worked with Tennis legend Martina Navratilova, NBA Basketball Star Ronnie Grandison, Chicken Soup For The Soul Author Mark Victor Hansen, and hollywood actress Demi Moore.  He has recently been working closely with recently drafted Denver Nuggets Basketball Player Michael Porter Jr.  His book "The 80/10/10 Diet" is the bible of the raw vegan movement.
Dr Graham's books have sold hundred of thousands of copies and his following online is over 50,000.
Tim Shieff (Vegan athlete)
Timothy "Livewire" Shieff is a professional English freerunner. He is best known for winning the 2009 Barclaycard World Freerun Championship and participating on the television programme MTV's Ultimate Parkour Challenge.[1][2] Shieff uses the nickname Livewire while performing freerunning. In 2011 and 2012 he appeared in the televised American Ninja Warrior competitions. In 2014 he appeared on a special "USA vs. The World" edition of American Ninja Warrior, where he helped lead Team Europe to victory over Team USA and Team Japan, and also competed in ANW 's "USA vs. The World II" in 2015. He was the last man standing in the first series and fourth series of Ninja Warrior UK and was a finalist in the second series.
Tim's following is over 180,000 online.
Paul and Yulia Tarbath (Rawesome Healthy)
One of the most inspiring couples in the raw vegan movement, Paul and Yulia travel the world to live in the most exotic and beautiful locations while sharing a message of health online.  They have a following of over 40,000 people online.
Ted Carr- Fruitarian Athlete and Vlogger
One of the rock stars of the raw vegan movement, Ted is not online one of the best known faces in the raw vegan movement he also has founded the Canada Fruit Festival which is set to take place this year in August in British Colombia, Canada. Ted has around 30,000 followers on both youtube and instagram.
Raw Food Romance- Melissa Raimondi
Melissa is one of the best transformations in the raw vegan movement.  Having lost over 70lbs, Melissa credits her raw vegan diet with having helped her recover her health and now live happily and healthfully at her perfect weight.  Her audience is over 38,000 online.
UK Frutifest Reach
Social Media
Video
Our videos are regularly shared and can reach over 1000- 3,500 views.  We aim to share videos every day.
Website Reach
Our website is growing quickly (up by 35% last month).  We are receiving over 7000 visitors per month and 12,800 page views.  Over the course of one year this would equal over 90,000 visits, but this is projected to grow.
Email
We reach over 5300 people via email.  Our open rates are as much as 35%, but on average are closer to 19%.  Over 1000 opens per email on average.
Mailing List (By Post)
We send out a letter about the event to an audience of over 2000 people, mostly in the UK but some are worldwide.  We plan to send one each quater to continue to engage with our audience after the event.
What Can We Offer You?
We are offering, for a short period of time, some unique sponsorship opportunities.  Our event takes place in just over 2 weeks time, so action must be taken very soon. If you qualify and fit our criteria, please fill in the information below and I will personally contact you to discuss this further (Ronnie Smith, UK Fruitfest Director).
The Premium Package
Be our exclusive sponsor for the 2018 UK Fruitfest (25th to the 29th of July), and for the remainder of 2018. We will take on no other sponsor and you will be our one and only partner for this event.
display your brand and banner alongside ours on our stage and on the outside and inside of our large festival marquee.  This is where all the action takes place and where all the attention will be.
display your brand image on our Interview board, we will interview all of our special guests in front of this boarding
have your brand displayed in our videos and in the videos created and shared by our presenters. The potential reach is  to well over 250,000 people online but is likely to be many, many more. Your branding must be provided and delivered to the venue by the 24th of July)
Have your personal photo opportunity with all of the presenters and your team.
A special networking session with our group of presenters and influencers in which you can share with them the vision of your brand with them.  We can not guarantee that this will lead to partnerships with our presenters, this is purely at their own discretion.
Have the one and only booth at the festival that is not our festival shop.  You will be able to interact with our audience every day and share with them information about what you are doing. You can also sell your product at this table if it is suitable.
An opportunity to speak to our audience about your brand from our stage and be filmed professionally.  This will be edited and shared to our audience.
A special video created by our video team connecting your brand/products with scenes from the festival, and with our audience. 
Your name and advertising displayed in the festival events programme shared with all of our guests
Your message and advertising displayed in our physical newsletter sent out to over 2000 people (mostly based n the UK), 3 times after the festival.
A link and image of your brand/product added to each of our emails (at least one per week) sent out until the end of 2018.
Your brand displayed on the front page of our website for the remainder of 2018.
Your brand included in our promotional film for next years event.  We regularly promote these videos to reach over 100,000 people in the UK alone.
Accommodation for the full event for 4 members of your team.  Stay onsite with our attendees and enjoy the full event without having to travel back and forth to a hotel. You can stay for the extended time of our festival (6  nights)
Your merchandise to be shared with all of our special guests upon their arrival.
Your logo presented on our festival clothing line for the 2018 event.
Bring up to 10 employees or guests of your choice to the event.  This is a unique experience of health and fitness for your team with some of the world's healthiest and most inspiring speakers as well as top performance coaches. Accommodation can not be provided, but there are many places to stay within close reach of the venue.
Guideline Price For Premium Package: £19,975.00
Terms and condition, and price are negotiable.  Please fill in the form below or contact me on 07936 875 064 to discuss this further with me personally (Ronnie Smith, UK Fruitfest Director)
Silver Package
If the premium package is not taken, we will be able to offer our Silver package. This package will be provided to a maximum of 3 companies. It includes:
Your brand or advertising displayed on our stage and around our festival marquee.  This will be in a prominent position in order for it to to be recorded in all of the videos of our presenters and pictures taken of them.
Your brand or advert to appear as part of the festival programme, shared with all attendees.
A link to your website or tag to your Instagram page included in all of the content we put out until the end of 2018 (this will be shared with the other brands participating in this package.
Attendance at the festival plus accommodation covered in full for you and 1 other guest.
Attendance at a private networking session with our special guests and the other silver package members prior to the event
A booth at the festival.  You will be situated alongside the two other companies that will be on site.
A selection of your merchandise shared with our guests
Attendance at our networking dinner, taking place the night before the festival and including a small group alongside our presenters.
An opportunity to speak about your brand for 10 minutes to our audience
A short video clip of your brand connected with the activities, energy and fun of the festival
Your brand or advertising displayed on a page of our physical newsletter, sent to over 2000 people across the UK, 3 times until the end of 2018.
Your brand image to appear on the front page of our site along with our other 2 silver package sponsors.
Guideline Price For Silver Package: £7995
Price and terms are negotiable.  Please contact me personally to discuss this further of fill out the form below.  (07936 875 064, festival director Ronnie Smith)
The Bronze Package
Attendance at our festival plus accommodation provided for 1 person.
Your advert or brand included in our festival programme.
Your brochures, flyers or other material to be distributed at the event to all participants
Your brand to appear in our Festival Sponsors page on our website until the end of 2018.
One email to be sent to our list about your product or service
One blog post + video about your product or service shared to all of our platforms
Attendance for one person at our networking session prior to the event.
Photo opportunity with you and our special guests
Your product or merchandise to be shared will all of our guests as part of their welcome package if this is suitable for you.
A 3-minute opportunity to speak to our audience from the stage about your product or service during dinner time.
Guideline Price For Bronze Package: £2995
(Please phone or fill in your details below for more information, Ronnie Smith, festival director 07936 875 064)
Other Sponsorship Opportunities
Sponsored Merchandise: Your logo to appear on our festival t-shirt.  If sponsored in full by you this will be distributed to all of our attendees and guests. Your logo will be reach hundreds of thousands if worn by all of our guests. Price: £1995, other clothing can also be arranged.
Sponsored Blog Post: Share a blog post on our website.  We are reaching over 12000 views on our site per month.  Our site often comes up at number 1 for many raw vegan related topics in the UK so this will also be positive for extending the reach of your site through SEO.  Price per post- £300
Sponsored Email: Our emails go out to over 5000 people (and growing). This is a targeted list of people interested in the raw vegan diet and in attending raw vegan events.  Price for one email: £500, 3 emails £950
Space In The Festival Programme: Shared with our 200 guests and speakers at the event.  One full page £750, one half page £395.
Share your merchandise in our welcome package: Distributed to all of our guests upon arrival: £200
One Page In The Fruitfest Physical Newsletter: Sent to over 2000 homes across the UK.  One page is £1000.  One half page is £550.
Food Sponsorship: Would you like to help our festival out with a donation of your fruit or vegetables?  Whether it is berries, apples, tomatoes, cucumbers or plums we would love anything you can offer.  There is no charge for this but you must arrange transport.  We will share images of your fruit on all of our social media platforms and via email.  Minimum amount must cover at least one sample for each individual at the event (200).  The more you share, the more we will promote you!
Please contact me to arrange this via email or fill in the form below: (info@fruitfest.co.uk)
Fruit Festival Sponsor Form
If you would like to have a conversation to see how we can work together please fill in the form below immediately and indicate which opportunity may be of interest to you.  Please note that we will investigate the Premium Package sponsors before all others.  If this package is taken then all other sponsorship opportunities will be unavailable for this year.